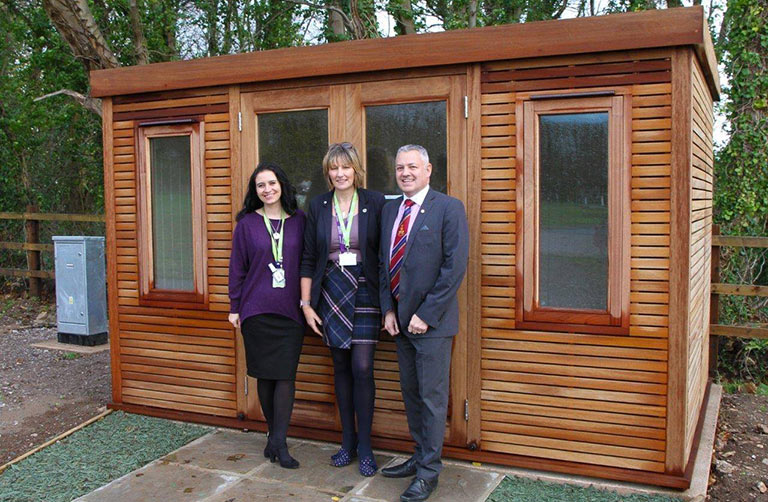 A new, specialist bereavement service for families who are dealing with the grief of losing a child, is being launched at Tŷ Hafan, the children's hospice in Wales, thanks to a £20,000 grant from South Wales Freemasons.
Tŷ Hafan, based in Sully, Vale of Glamorgan, offers comfort, support and care to life limited children, young people and their families throughout Wales.
Care in the hospice focuses on making the most of the time families have together. The charity provides support and care for many years, from admission to bereavement and beyond, and ensures the child's siblings, parents, carers and extended family are considered.
The grant will allow Tŷ Hafan to create a dedicated bereavement support service, which will be based in a specially designed summer house near the hospice's memorial garden. It will give families and individuals the support they need in their darkest hours, as they come to terms with the death of a child or with the knowledge that in the future, their child will die.
The funding will enable Tŷ Hafan to recruit a pool of bereavement therapists with specialist expertise who are the very best in their field.
The grant from South Wales Freemasons comes through the Masonic Charitable Foundation, which is funded by Freemasons, their families and friends, from across England and Wales.
Hannah Williams, Partnerships, Projects and Research Lead at Tŷ Hafan said:
"We're very grateful to South Wales Freemasons for their generous grant. It will allow us to extend the care and support that families so desperately need, by creating an appropriate dedicated therapy space and recruiting a pool of experienced, specialist therapists to ensure we can offer a bespoke service based on individual need".
Robert Payne, Charity Officer from South Wales Freemasons said:
"We're very pleased to be able to help Ty Hafan, who are doing wonderful work helping families cope with the grief of losing a child. This is a hugely important project that will support people at their most vulnerable time."
Brad Watson's son Archie was referred to Tŷ Hafan in 2013 and sadly died when he was just two and a half. But Brad, of Penallta near Caerphilly, and his wife and children are still very much part of the Tŷ Hafan family.
Brad was thrilled at the news of the grant from South Wales Freemasons:
"As a father who has lost a child, it's not easy. Coupling a visit to the garden to remember, plus having the opportunity to talk in an environment where there is total comfort will be incredible for the wellbeing of those who need this", he said.
Brad added:
"With this funding, Tŷ Hafan can now provide an even greater support facility to ensure that we have a place to go to honour the memories we have of our children, cherish what we still have and make new memories with them. And if we need to open up, we can do so in dignity and privacy".