A Cardiff-based charity, that offers food, shelter and clothing to the homeless and disadvantaged people of the city, has received a donation of £500 from the South Wales Freemasons.
The Rainbow of Hope Charity offers support to people from a wide range of backgrounds, who are suffering from poverty and distress, by providing food, shelter and clothing as well as advice and guidance. The charity, which is approaching 20 years old, was founded by Elizabeth Perret-Atkins, who decided to set it up following a very difficult period in her own life.
Robert Payne of the South Wales Freemasons presented the cheque to Ms. Perret-Atkins during a recent visit, when he went to find out how the local charity was helping the homeless and disadvantaged people of Cardiff, which includes asylum seekers and refugees.
Ms Perret-Atkins said: "the Rainbow of Hope drop-in Centre on Broadway is open five days a week and offers a range of services, which includes daily free daily tea, coffee and lunches for anyone in need. We also have a diverse range of support and educational groups for those who are interested. These include a weekly Bible study group, a group for asylum seekers called "welcome a stranger" and a weekly free hairdresser". She went on to say: "we also offer classes in English and arts & crafts and provide the services of a legal case worker".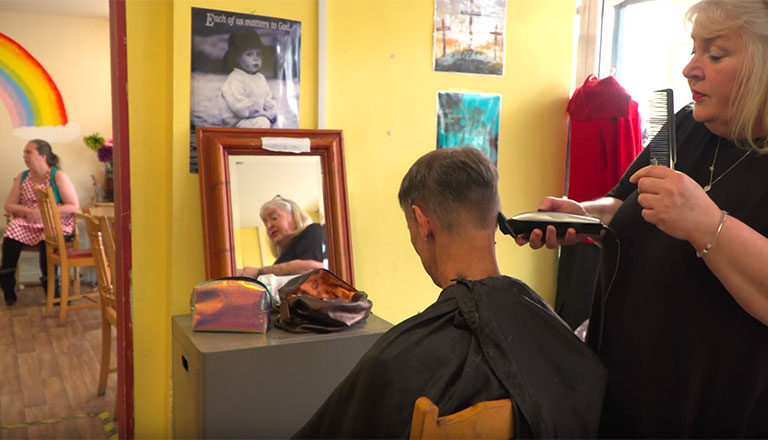 As well as the drop-in centre, the Rainbow of Hope also has a 'soup-run' in the centre of Cardiff, which it calls "The Paradise Run". This is located on Charles Street, and between 8 pm and 9 pm every weekday feeds those who are hungry. It also offers friendship and support to those in need.
Ms. Perret-Atkins said: "this generous donation from the Freemasons of south Wales will really help us in our work with the people of the city, who through no fault of their own, have fallen on hard times". She went to explain: "some of the people we help are those with nowhere to sleep, sleep in squats or live in hostels. Many have experienced relationship difficulties, struggle with drugs or alcohol, or are lonely or bereaved. What they all have in common is the need for someone to stand alongside them and share their burden."
Mr Payne said: "the South Wales Freemasons are delighted they've been able to help the Rainbow of Hope, who do truly outstanding work helping some of the most vulnerable people in our community". He went on to explain, "the South Wales Freemasons donate over £150,000 to local charities every year. This money is raised by our members in south Wales for many diverse and deserving local causes".
Further information on the Rainbow of Hope (registered charity number 1088856) can be found on its website, wwwrainbowofhope.co.uk, or by telephoning 029 2049 4317. The charity is always in need of volunteers to help and assist them, either at their centre in Broadway or on the evening Paradise Run. Donations of clothes or un-wanted household items are also very gratefully received.
Opening hours for its drop-in centre in Broadway, Cardiff are: Weekdays 10:30am to 1:00pm (Friday evening twice monthly from 7:30pm to 9:30pm) and Saturday from midday to 1:00pm