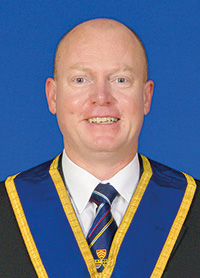 The role of the Provincial Grand Orator is to provide and promote learning activities for members with the aim of fostering curiosity and developing Masonic understanding.
With his Royal Arch counterpart, E. Comp. Simon Daniel, Merrick leads a Learning & Development team that supports the Craft Lodges and Royal Arch Chapters within the Province.
Merrick says: "My aim is to enthusiastically promote Masonic learning as a regular feature of Lodge and Chapter meetings. We encourage interest from individuals as well as Lodges and Chapters and aim to raise the profile and importance of Masonic Learning, ensuring that Masonic learning has a growing and regular profile in the Province.
We have a team of presenters and event organisers, but also encourage Lodges and Chapters to present the learning and development lectures themselves. The best resource for that is the UGLE 'Solomon' learning repository, which is excellent for both personal and group use.
We also run a programme of events that complements such Lodge and Chapter activities. Recently that has also involved collaborating with the Provincial Grand Mentor in the development of presentations for new members."
Your Journey of Masonic Learning and Development
The UGLE Solomon learning and development portal can be found here.
Learning and Development team
The Learning and Development team have four areas in which they work:
Presentations. Lodges can contact presentations@

null

southwalesmason.com to request a talk from one of the presentations team. Lodges can use Solomon to present their own short talks, but we are available to present longer talks and discussions to your Lodge or Chapter, perhaps as the main business of the meeting.
Events. The events team specialise in organising Province-wide learning events such as Learning & Development days, Officers' workshops and Solomon familiarisation events. They can be contacted through events.pldt@

null

gmail.com.
Research. Attached to the Albert Edward Court Lodge of Research, No. 9908, is the Provincial Research Group, who meet quarterly to present and discuss original research into masonic history or symbolism. The Research Lead acts as Secretary to that Group and also manages the Provincial Research Library. manager.swprl@

null

yahoo.com.
Communications. We have a dedicated Communications Lead, responsible for using social media (facebook.com/SWMasonicEducation and @SWalesLearning) to promote talks, events and other Learning & Development content.
Provincial Grand Orator's blog
Merrick also writes a monthly blog for this site. This can be found here.
Contact the Provincial Grand Orator
Merrick can be contacted by email orator@nullsouthwalesmason.com
Alternatively, by phone on 0777 090 5143 or via his social media accounts on Twitter @SWProvOrator and Facebook SWMasonicEducation.