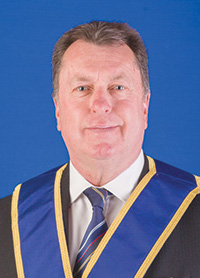 In the role of the Provincial Grand Membership Officer, Neil has full responsibility for all aspects of membership.
Attracting new members
As the Provincial Grand Membership Officer, Neil's aim is to help Lodges through a structured approach to attract, introduce and encourage potential new members, whilst at the same time retaining and adding value to the existing membership.
Neil says: "The essence of my role is to ensure that we fully implement the 'Pathway Process' [a step-by-step progression pathway for members], which strongly supports our drive on the attraction, retention and retrieval of members. The implementation of the 'Pathway Process' has been of great benefit to the Province, and our work results in many enquiries for membership. This has ensured that we are continuing to build a sustainable future for the Province of South Wales."
For those Lodges who are looking for new members, Neil strongly suggests getting in touch so that he can match up candidates with suitable Lodges.
Mentoring scheme
Coupled with the role of Provincial Grand Membership officer, Neil also heads up the mentoring scheme and activities for the Province. The aim of the mentoring scheme is ensure that each candidate is able to enjoy being a Freemason to its fullest, understands the principles of the Craft, and becomes involved in his Lodge and all its activities as fully as possible.
Neil feels that the use of Lodge and personal mentors is crucial, and it is important that all members of a Lodge share responsibility for introducing new members and for helping to retain them by making them feel welcome, supported and included.
Contact the Provincial Grand Membership Officer
Neil can be contacted by emailing membership@nullsouthwalesmason.com