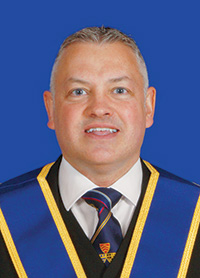 The role of the Provincial Grand Charity Steward is to oversee and promote all charitable giving within the Province.
W. Bro. Robert Payne has been the Provincial Grand Charity Steward since June 2018. Previously he'd been Deputy Membership Officer & Deputy Mentor for the Province of South Wales.
Robert says: "The role of a Provincial Grand Charity Steward is both rewarding and challenging in equal measure. My aim is to enthusiastically promote Masonic Charitable giving as a regular commitment for all Brethren and Companions. One of my most important duties is to build positive relationships, with members of the Provincial Executive, with Lodge & Chapter Charity Stewards and of course with all members.  I have been immensely impressed by the charitable giving across the whole of the Province to support both Masonic and non-Masonic causes. It is also tremendously rewarding to meet the charities and recipients of our grants and witness first-hand how our financial support is assisting those who are in need."
What are the responsibilities of the Provincial Grand Charity Steward?
Managing and enthusing Charity Stewards throughout the Province
Communicating information and appropriate charitable news
Providing advice and guidance on raising and collecting funds and sharing Ideas
Offering advice on how to administer funds and keeping them safe – Relief Chests
Disbursing authorised funds and maximising the impact
Enabling Charity Stewards to motivate members
Encouraging brethren to give time and effort
Keeping the Provincial Executive informed on charitable work
Acting as a link between the United Grand Lodge of England (UGLE) and the Masonic Charitable Foundation (MCF) for charitable purposes
Promoting the charitable work of UGLE, MCF, Province, Lodges, Chapters and members
Recognising outstanding efforts by Charity Stewards, Lodges and Chapters
Providing Support when needed
In South Wales we are fortunate to have the Masonic Benevolent Fund (MBF) of South Wales and the Provincial Samaritan Fund of South Wales to compliment the work of the Masonic Charitable Foundation, who all play an important role in supporting Charities and good causes across the Province.
Further information and contact
A booklet entitled The Charity Steward's Guide can be downloaded free of charge from the MCF website.
Contact the Provincial Grand Charity Steward
The Provincial Grand Charity Steward can be contacted by emailing
ProvGChStwd@nullprovince.org.uk
Twitter: @swales_charity