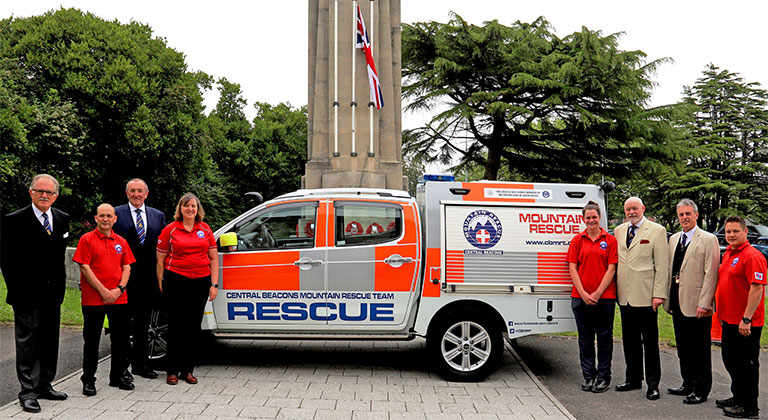 The Masonic Benevolent Fund has been long established in the Province of South Wales, assisting through grants to organisations outside Freemasonry. The disastrous fire to the Central Beacons Mountain Rescue Team Headquarters that destroyed their base along with equipment and rescue vehicles came to the attention of the MBF administrators, contact made to see how Freemasonry could assist.
The result was the full funding of a new 'state of the art' Rescue Vehicle, the £55,000 Isuzu D-Max Utah converted by Pickup Systems Burnley, and presented to the CBMRT at the South Wales Provincial Grand Lodge meeting at Barry. The Isuzu will be a 'first response' emergency vehicle, with search operations capability. It can traverse flood water with a high level exhaust and is readily identifiable with Mountain Rescue colours and blue lights to support urgent responses. The Isuzu also carries the name of The Freemasons of South Wales as a visible link to our support for the communities of which we are a part.
Since the hand over to the Central Beacons Mountain Rescue Team, 'first response' rescue operations have included a missing person callout in Cardiff, rescue of two people in a waterfall location, a further waterfall callout to a walker with serious injuries, prior to a winch out by helicopter, and saving a young boy missing on a South Wales mountain.
Pictured at the formal 'hand over' ceremony at Barry are (left to right) Andrew L. Gretton MBF Chairman, CBMRT Incident Controller David Cross, David Swain representing Brecknock LodgeNo.651, CBMRT Team Leader Penny Brockman, CBMRT Foundation Team Member Kate Murray, Gareth Jones PGM , William E. Jenkins Deputy PGM, and CBMRT Fund Raiser & PR Officer Lee Faulkner.